Aaj Ke Angaarey - (Action/Thriller)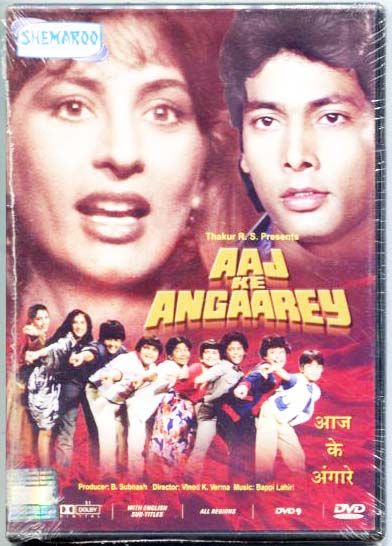 Star Cast :
Hemant Birje, Raza Murad, Om Shiv Puri, Archana P. S., Neeta Puri

Director : Vinod K. Verma
Producer : B. Subhash
Music Director : Bappi Lahiri
Print type : Color
Release Year : 1988
Synopsis :
An intrepid bunch of school children, encouraged by their teacher take on a group of terrorists who have kidnapped them. Having escaped from their kidnappers, the students with the encouragement of their teacher, fashion weapons from whatever is available in the wilds and teach the kidnappers a lesson they would never forget. Action galore.
DVD Features
Multi-Region: Can be played anywhere in the World.
DVD 5 or DVD 9
NTSC Format
Audio: Dolby Digital 5.1
Digitally Mastered from the Original Film
Subtitles: English
Interactive Menus of Songs & Scenes for Easy Access
DVD Aaj Ke Angaarey Bollywood Hindi Movie Hemant Raza Neeta India
Product Code: DVD19
Availability: In Stock
Tags: DVD, Aaj, Ke, Angaarey, Bollywood, Hindi, Movie, Hemant, Raza, Neeta, India